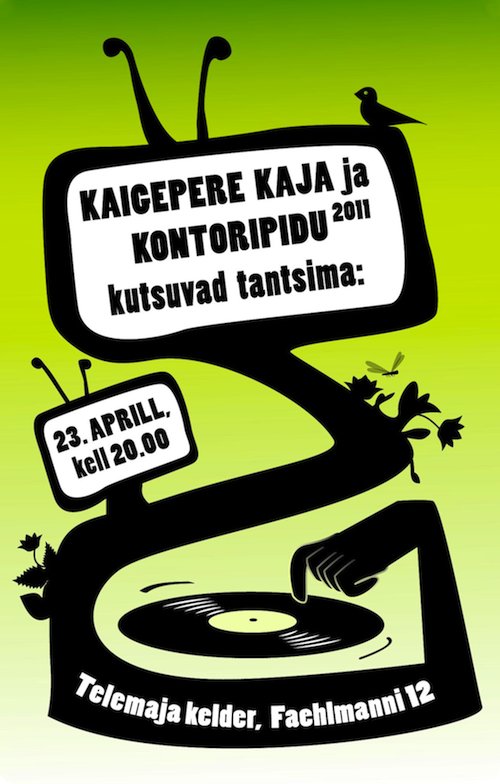 Ootame teid kõiki väga, kahe nädala pärast, 23.kuupäeval algusega orienteeruvalt kell 20, peole. Telemaja (Faehlmanni 12) keldrisse pääseb peauksest sisse alguses vabamalt, hiljem peale keskkööd on uks kinni ja sissesaamiseks tuleb teil kellelgi pidutsejale endast märku anda. Endiselt võite kaasa võtta meeldivaid jooke ja sööke, kohal on avatud ka emergency-õllekas, aga keegi ei tea, kaua sellel jaksu on. Samuti on avatud lahkeid panuseid ootav annetuskast kuhu külalised peokulude tarbeks südametunnistuse järgi meeneid jätta võivad.
Kuna seekordne pidu on kahe korraldaja ühisüritus, siis musikaalsete riskide ja ehmatuste maandamiseks panime kirja näite sellest, mida kuulda võite:
Legowelt,Air,Roots Manuva,Peter Björn And John,New Order,The Horrors,Does It Offend You Yeah,The Bug,Ladytron,Fonda Rae,Skream,Holy Fuck,David Bowie,Jazzanova,Joy Division,Congo Natty,Ajukaja,Crystal Castles,Excision & Datsik,Mary Jane Girls,Ultra High Frequency,Klaxons,
MGMT,M.I.A.,The Kinks,Jazztronic,Azymuth,Solvent,Antena,Dj Zinc,Vakula,Gwen Guthrie,Destroyer,Beenieman,Ariel Pink,Young Ax,
High Contrast,Cutty Ranks,Lone,Danny Byrd,Nuspirit Helsinki,Jungle Cakes Calibre,Urban Soul,General Lewy,Baris K,Lowfish,Warrior Queen,A Certain Ratio,US3, Quant,M83,Touchdown,The Romantics,Marsheaux,Stone Roses,Lali Puna,Lcd Soundsystem,Break, Klute,The Breeders,Kalbata,Strokes,
Ohio Players,Falty DL,Shy FX,Elizabeth City State,Rony Size,Cajmere,Lemonheads,Hird,Dub Terror,Golden Flamingo Orchestra
……….. ja palju muud…………
Seega, endiselt on pilt kirju, nii tempo kui stiili poolest.
Flaieri täisversiooni (trükipromoks või T-särgile) saate tõmmata siit
http://www.box.net/shared/7pumkin98j
ning orienteerumiseks lisasin ka kaardi:
http://www.box.net/shared/66dfohf9vd
olulised kontaktid
Renno +372 5155336
Janno +372 5265276
Näeme!
******************
Hoping to see you all at the party in 2 weeks, on saturday the 23th of April, starting from 8PM.The venue at basement of Telemaja (Faehlmanni 12, Tallinn) has its doors open approximately until 12AM, after that you
have to contact somebody already inside. Feel free to grab foods and drinks with you, there's a fridge for storing stuff and emergency beer-service (which might run out sooner that you think). Also there is a small box for donations, we kindly hope that you support the organizers. Since the party is a joint venture of 2 organizers then we pasted here a small sample of stuff that you can hear there. As you see the artist-list above, the picture is eclectic, varying in styles and tempos.
Flyer's fullsize version is downloadable here
http://www.box.net/shared/7pumkin98j
and also added the how-to-get-there map here
http://www.box.net/shared/66dfohf9vd
To contact important people
Renno +372 5155336
Janno +372 5265276
See you there !!!!